Accomodations.
26 suites, 1 apartment.
Suites il Borgo



The design and the layout chosen for these mobile homes takes those who stay here to a whole new emotional experience, one dedicated to Italian tradition and to its villages.


The houses that are part of this new inspiration make us reminisce of the old crafts that once populate our typical rural Italian landscapes.


From the workshop of the miller or the blacksmith, school or town hall, fishmonger or fruit stand, all become one holiday resort where you can feel as a true inhabitant of the village.

Specification and information

Beds
1 double bed + 3 twin beds

Bathroom
2 bathrooms with wc, sink, shower, hairdryer

Kitchen – Livingroom
sink, kitchen equipment, 4 burner Induction hobse,
refrigerator, Water boiler

Inside
Sat-TV with remote control
Air conditioning /heater
Table with chairs

Outside
Table with chairs
Partially covered wooden veranda

Tourist Tax:
€ 0,50 each person/per night (from 6 year old)

Final Cleaning:
€ 60,00

 Air conditioning
 Car parking
 Outside table and chairs
 Blankets and pillows
 Kitchen equipment
 Kettle
 Sat TV
 Swimming pool
 Safe
 Sun beds
 Sheet

 Towels rental upon request
 Baby cot rental (sheets and pillows not provided) upon request
 Baby chair rental on request
 Bed guards rental upon request
 Microwave owen rental upon request
 Bike rental
 Pedal boat, kayak, SUP rental c/o Camping Village Conca D'Oro.
 Wi-Fi €1/day
 Laundry tokens (for washing machine and thumbledryer)
 Weekly program of guided tours to discover the territory.
The Apartment



Spacious apartment with view on swimming pool; the best alternative for those who live their holiday from a more exclusive point of view.


Made up of two bedrooms, of which a master bedroom and a bunk bed bedroom, bathroom with shower, a big well-furnished living room, satellite-TV, air-conditioning and fully equipped kitchen.


A practical and convenient solution in a family ambience, for those who love feeling at home far away from home! Try it to believe it!

Specification and information

Beds
1 double bed + 2 twin beds + 1 sofa-bed

Bathroom
1 bathroom with wc, bidet, sink, shower, hairdryer

Kitchen – Livingroom
sink, kitchen equipment, 4 flames gas stove,
refrigerator, water boiler

Inside
Sat-TV with remote control
Air conditioning /heater
Table with chairs

Outside
Table with chairs
Terrace

Tourist Tax:
€ 0,50 each person/per night (from 6 year old)

Final Cleaning:
€ 60,00

 Air conditioning
 Car parking
 Outside table and chairs
 Blankets and pillows
 Kitchen equipment
 Kettle
 Sat TV
 Swimming pool
 Sheet

 Towels rental upon request
 Baby cot rental (sheets and pillows not provided) upon request
 Baby chair rental on request
 Bed guards rental upon request
 Microwave owen rental upon request
 Bike rental
 Pedal boat, kayak, SUP rental c/o Camping Village Conca D'Oro.
 Wi-Fi €1/day
 Laundry tokens (for washing machine and thumbledryer)
 Guided trekking excursions on request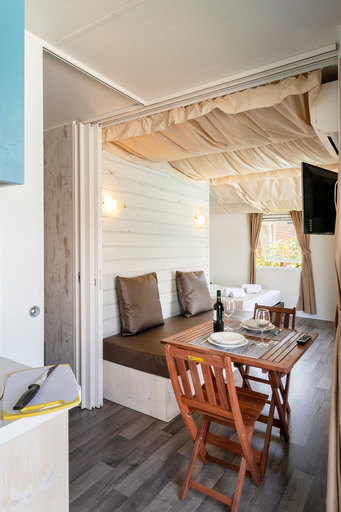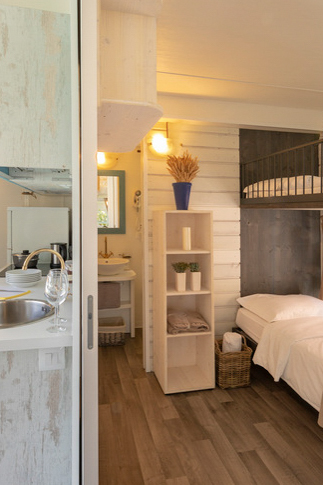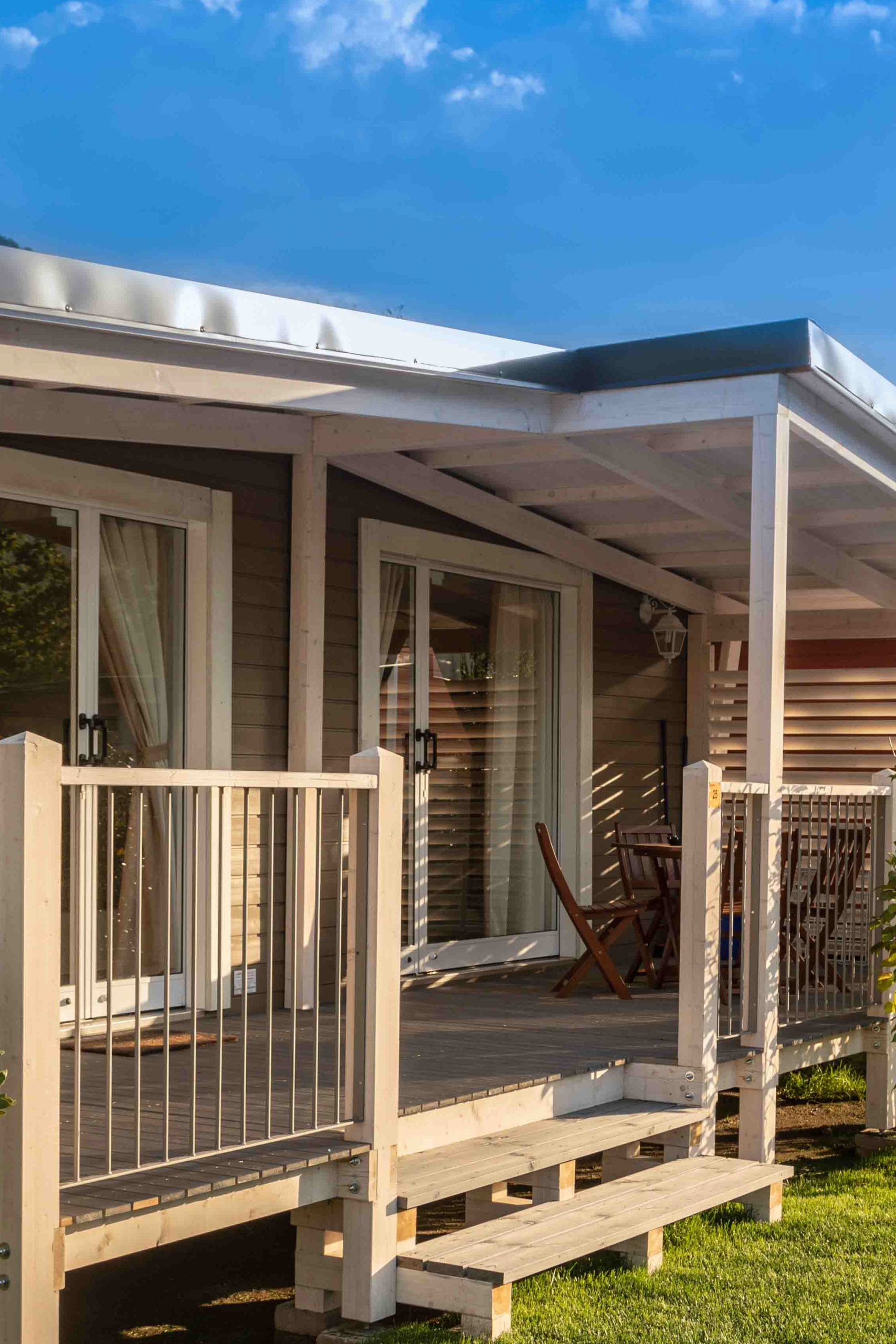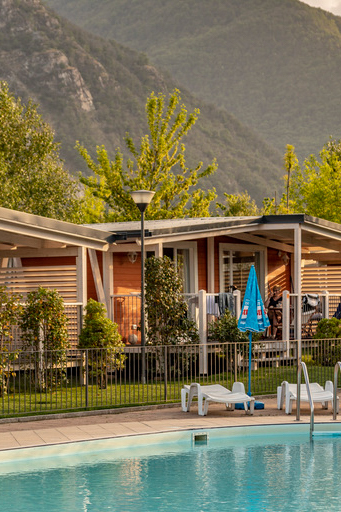 Glamping Borgo delle Arti
OR